Hey there! I'm alive....super pregnant... and not wanting to do it anymore, but thank the good Lord, I wont have to. This is my last week so I'm trying to stay positive and busy!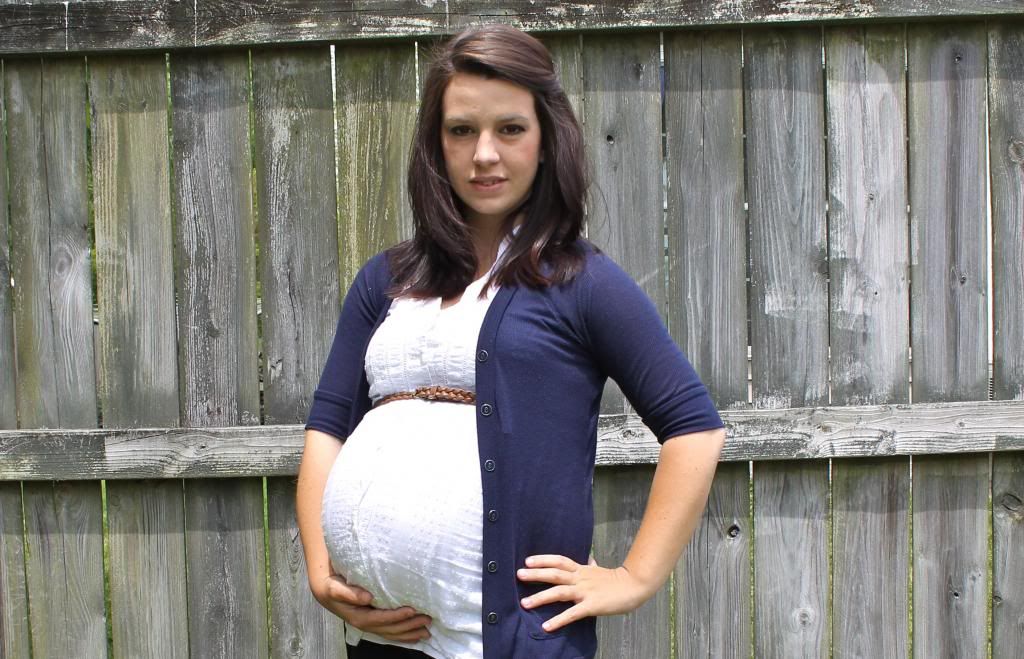 How far along: 38 weeks
Development: About 19.5 inches long / aprox 6.8 pounds (according to my pregnancy apps)
Doctors Appointment: My last one is today!
Weight Gain: 32 pounds. goal was 30...so thats good enough I guess.
Maternity Clothes: I'm circulating about 3 outfits. I thought I'd succumb to yoga pants and t-shirts by now but who was I kidding? I'd never go out in public like that.
Stretch Marks: No new ones. Plenty from my 1st pregnancy
Best moment of my week: Knowing that in 7 days or less I'll get to hold this little one.
Worst moment: Lots of hip pain, feeling achey.
Miss Anything: Just feeling myself. Being able to jump right up and get something, buckling my sandals or holding the boys on my lap.
Food Cravings: still slushies. I could live off those right now.
Aversions: None
Sleep: Surprisingly I've slept pretty well this whole pregnancy, which I'm super thankful for. Only a night here and there that I'm up a few times.
Gender: Girl
Labor signs: No
Rings: Off
Moody or Happy: Happy
Looking Forward: I'm so looking forward to seeing what/who she'll look like, watching Ben with his little girl, and the boys getting to meet their sister. I can't wait to see how our family is going to change once she arrives.
Notable Mentions: My induction is scheduled for next tuesday, the 7th. Probably super early in the morning. I don't think I'll update before then but if you want, you can follow my instagram for pictures :) @lesleyfloyd915