When I was pregnant with Weston I remember thinking it was amazing how many new items had come out for babies since I had Kingston, and now with #3 on the way there are even more new things I know will make life easier.
So I came up with a list of some things I know I love and a few I think I'm going to...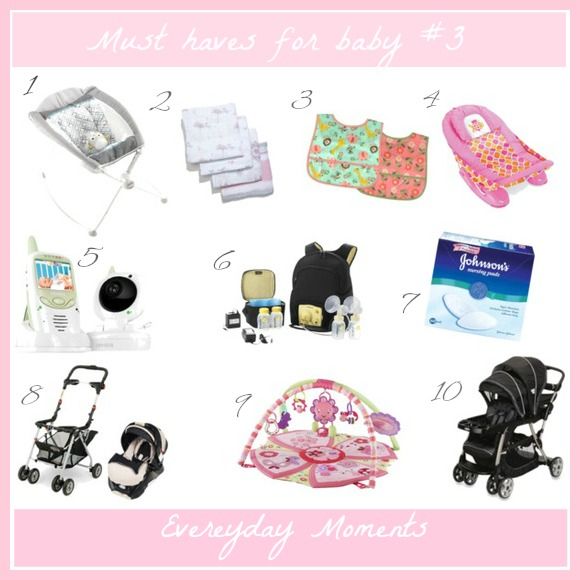 1. Fisher Price rock 'n play sleeper. I'm not sure if we can squeeze this into our budget but I had a swing sleeper (we wont name any names) for about three months and I've heard great reviews about these things so I really hope we can get one.
2. Aden + Anais Swaddling blankets. I don't remember these being around when the boys were little, but with a spring baby I can only imagine how nice these will be.
3. Wipeable bibs. Maybe this is just common sense but I didn't think of it until after I had ruined an ungodly amount of bibs.. Enough said.
4. Bath chair. I know from experience this is all you need. Or at least we loved it. I had a big plastic tub at first when Kingston was a baby but later got one of these chairs and never looked back. Takes up no space and folds down small. I usually just stick my babies in the shower with me to save time (or to keep them safe from older siblings) and this time I even plan to take it to the beach for Eden to hang out in.
5. Video monitor. I got this when we moved Weston into a room with Kingston. Mainly to make sure Kingston didn't mess with him, but we use it even to this day and the talk back feature is one of my favorites.
6. Medela pump. Go big or go home...or something like that. This thing saved my life in those early months. After three babies, we definitely got our moneys worth.
7. Best.breast pads.ever.
I've tried them all. These are soft, no annoying wrappers, no visible dents or what have you showing through your shirt. You're welcome!
8. Graco snugride. They are my favorite carseats. They are so lightweight and with me not being very tall I can't be lugging around a monster seat. I just happened to find this one with the frame stroller on craigslist for a steal.
9. Play mat. Great for tummy time, or if you have hard floors it's a nice little space to play. I got one for each of the boys when they were little and I hope to get one for Eden.
10. Graco ready2grow double stroller. We already purchased this stroller about a month ago and we love it. I can pull it out of the trunk and switch the seats around right there in no time. Great basket space, cup holders and it will also hold our infant seat. With three kids I think this is going to be our best bet. The boys can take turns with the sit/stand option while Eden can chill out in the front seat.